May 2022 Business of the Month
Elsinore Valley Municipal Water District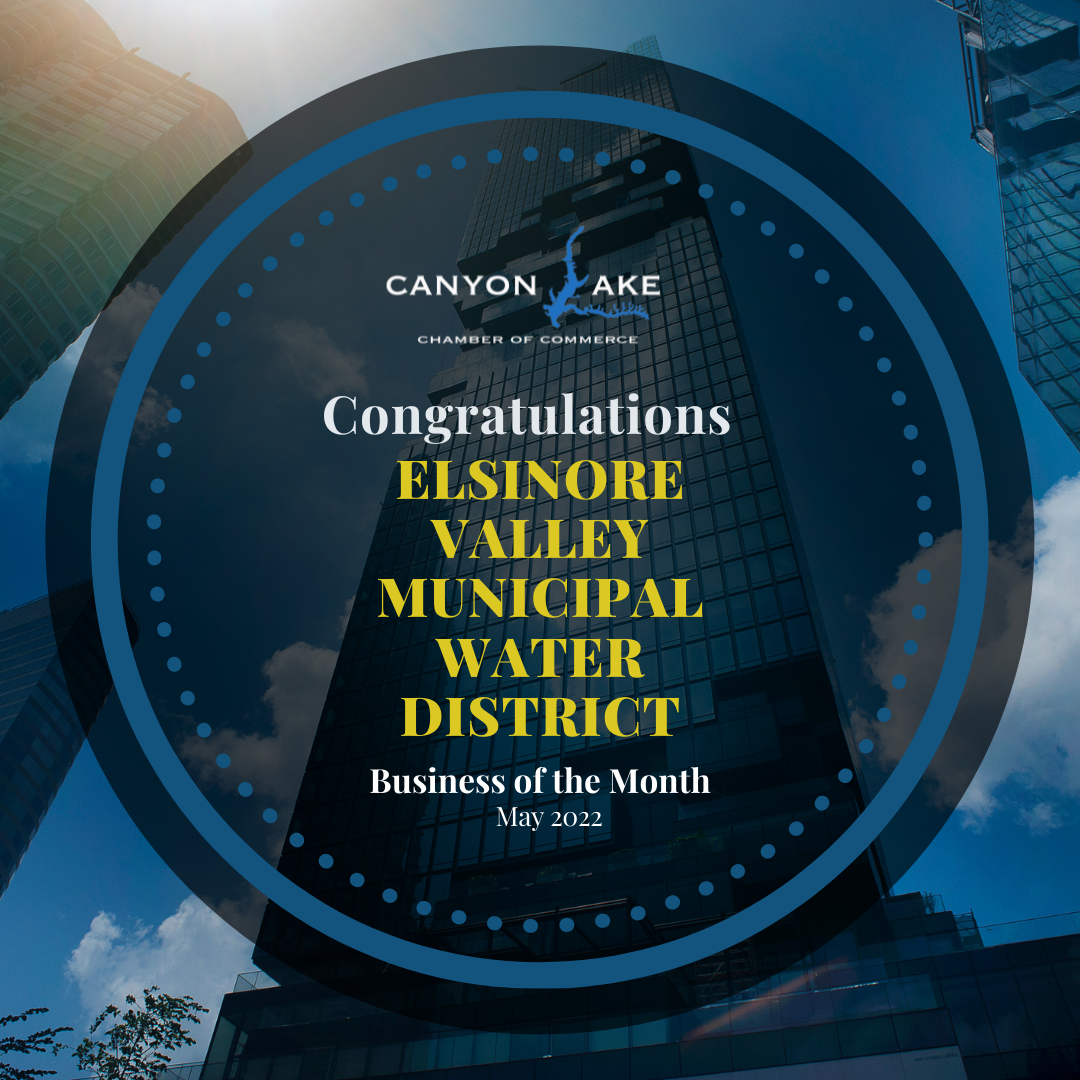 Elsinore Valley Municipal Water District (EVMWD) was selected by the Canyon Lake Chamber of Commerce Board of Directors as the May 2022 Business of the Month.
The Director's unanimously agreed that EVMWD's sponsorship and participation in member and community events make them an excellent recipient of this recognition.
When we asked EVMWD what it means to them to be a part of a Chamber this is what they said -"Being connected to our community through the Canyon Lake Chamber allows us to build and strengthen relationships within the community. The partnership with the Chamber helps us share directly with our business customers the latest information and news about the district, and allows EVMWD to hear our business community's wants and concerns."
Darcy Burke, the board president of EVMWD, state,"As an EVMWD Board member serving the Canyon Lake Community, my favorite part is the people. I have met many more residents, business owners, and clubs since being elected," said Board President Darcy Burke, who represents Canyon Lake. "These relationships inspire me to use my water expertise, industry knowledge, and professional relationships to solve complex issues, ultimately improving our community and region. Canyon Lake has been engaged, participated in the water conversation, and overall, very supportive. Water issues including water quality and availability are only going to get more difficult. I appreciate my Canyon Lake community responding to these challenges and supporting long-term solutions."
EVMWD's General Manager state, "It is an honor to serve our neighbors in the Canyon Lake Community," said Greg Thomas, general manager for EVMWD. " We appreciate the Chamber's commitment to the community and their work with us to connect business and water. Events, like the Chamber's Local Issues Panel, are great opportunities for us to update local businesses about water quality, water supply, potential impacts due to regulations, and provide information on conservation related rebates."
Congratulations EVMWD. Thank you for being a part of the Chamber Family and giving back to our business community.